David C. H. Austin OBE
1926 - 2018
In the 1940s, when he was just a teenager, David Austin was already fascinated with roses. Soon after, his hobby became his life. He released his first rose, 'Constance Spry', in 1961. During his lifetime, he released over 200 English Roses, creating an unrivalled collection, beloved throughout the world. 80 years on our objective at David Austin remains the same as when he first started out - to create a more beautiful rose.
---
From Schoolboy to Rose Breeder
Sowing the seeds
Growing up in the Shropshire countryside, David Austin developed a passion for plants from a very young age. However, his interest in flowers was truly ignited when he first discovered a magazine called Gardens Illustrated, tucked away in the school library. After being encouraged by his teacher, he decided to pursue his new found passion.
James Baker, a friend of David's father, ran a nursery down the road from their family farm. David would visit with his father and was dazzled by the new varieties of lupins that James was breeding. It was at this time that the idea of developing new varieties of plants himself really started to take hold. Coming from a farming background, David had an innate knowledge of plants but taking this knowledge and applying it to the less practical world of flowers did not meet his father's approval. It wasn't until his sister gave him A.E. Bunyard's book, Old Garden Roses, for his 21st birthday, that he fell in love with roses.
First Shoots
With his new passion for roses, David decided to take up rose growing as a hobby, ordering his first few plants when he was in his early twenties. Beguiled by their beauty, his interest only really lay with the Old Roses, but with the fashion at the time being for modern Hybrid Teas, he decided to order a few varieties to compare the two groups.


Although he wasn't charmed by the Hybrid Teas he did recognise the attributes they possessed that the Old Roses lacked: a much wider colour range and the ability to repeat flower. This was his light bulb moment, the realisation that he had the opportunity to create something entirely new — a rose with the beauty and fragrance of his much-loved Old Roses but with the benefits of modern roses.
Growing Pains
Resolute in purpose, David began the slow process of breeding this new type of rose. Unfortunately, his inexperience revealed itself when he lost his first set of seedlings to a fungal disease, and he had to start all over again the following year. However, with time and extraordinary dedication, David created his first rose, 'Constance Spry' (Ausfirst), in 1961. Industry professionals said nobody would buy these 'old fashioned roses' and nurseries refused to stock them. Not one to be easily discouraged, David decided to ignore his detractors and sell his roses to the public himself, using his own kitchen table in Shropshire as his distribution centre. He also sold a wide range of other roses including Old Roses, climbers and ramblers.
Coming Into Bloom
By 1969 David had refined the breeding process and launched his first range of repeat-flowering 'English Roses', the name he coined for his ground-breaking varieties that fused the old with the new. He reasoned that the French have the Gallica roses, the Scottish the Scots, so why shouldn't the English also have a group of roses to call their own ̶ especially with the rose being so intertwined in England's culture and history.
The early years were quite a struggle, particularly because he was trying to compete with so many other rose nurseries. However, with the support of his wife Pat, combined with the unique combination of attributes his roses had to offer, the English Roses grew in popularity and the Old Rose style began to enjoy a long overdue renaissance.
GROWTH and recognition
In 1983 David experienced his first real breakthrough when he introduced three English Roses at the Chelsea Flower Show, including the rose named after his good friend and mentor, the revered horticulturist, Graham Thomas. The response from the press, as well as the general public, to Rosa 'Graham Thomas' (Ausmas) was overwhelming and David credited it with being the rose most responsible for the recognition and success of the English Roses. The following year saw the first of many gold medals at the RHS Chelsea Flower Show, and the David Austin rose garden gradually became one of the highlights for visitors, which continues to this day.
With the increased popularity, the nursery business started to grow, the extra income meaning that the rusty, draughty old barns could be replaced by modern packing sheds and the falling down breeding greenhouses replaced by bigger and more spacious ones, although still second-hand. The fledgling rose garden, now considered one of the most beautiful rose gardens in the world, also increased in size.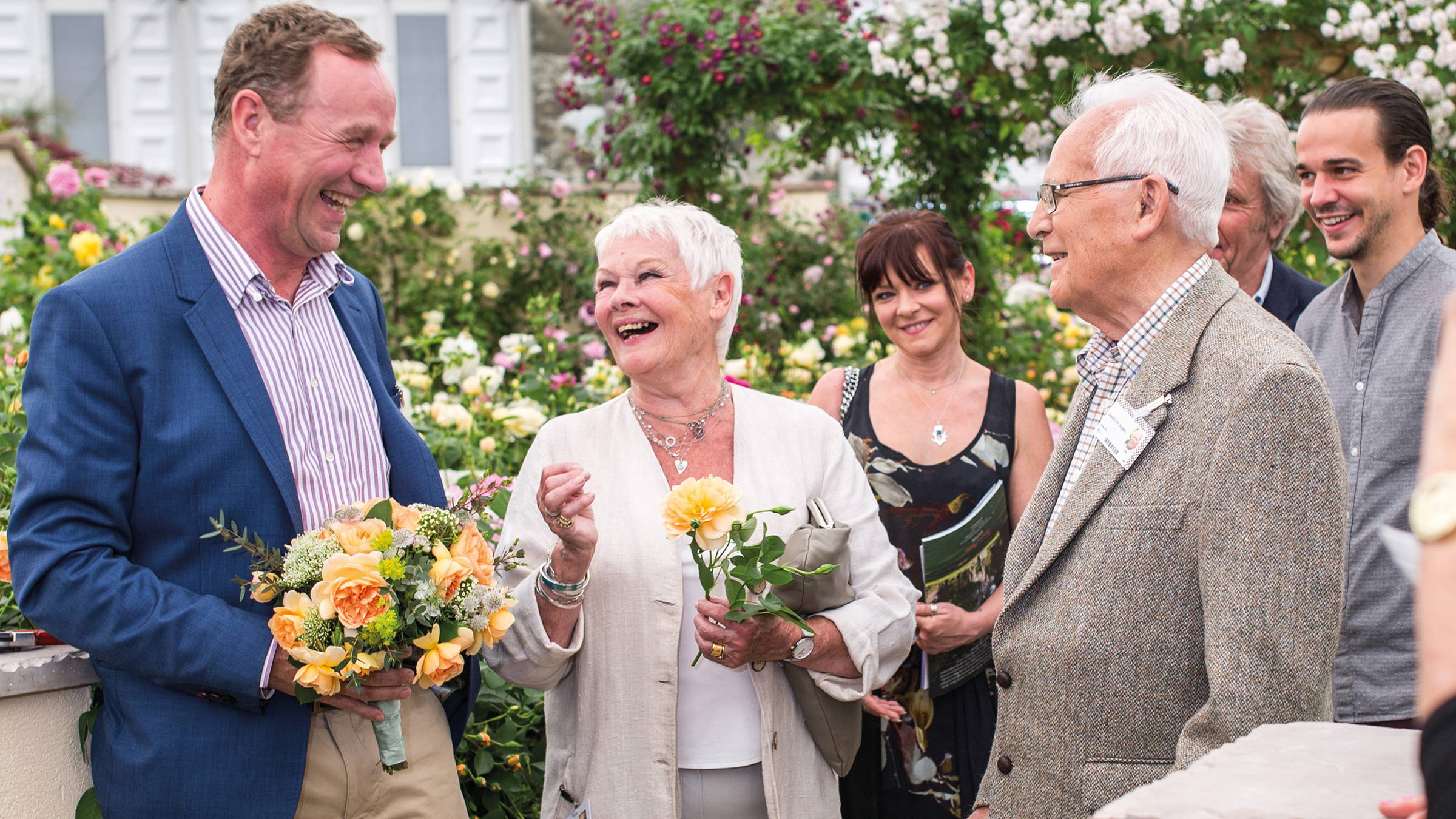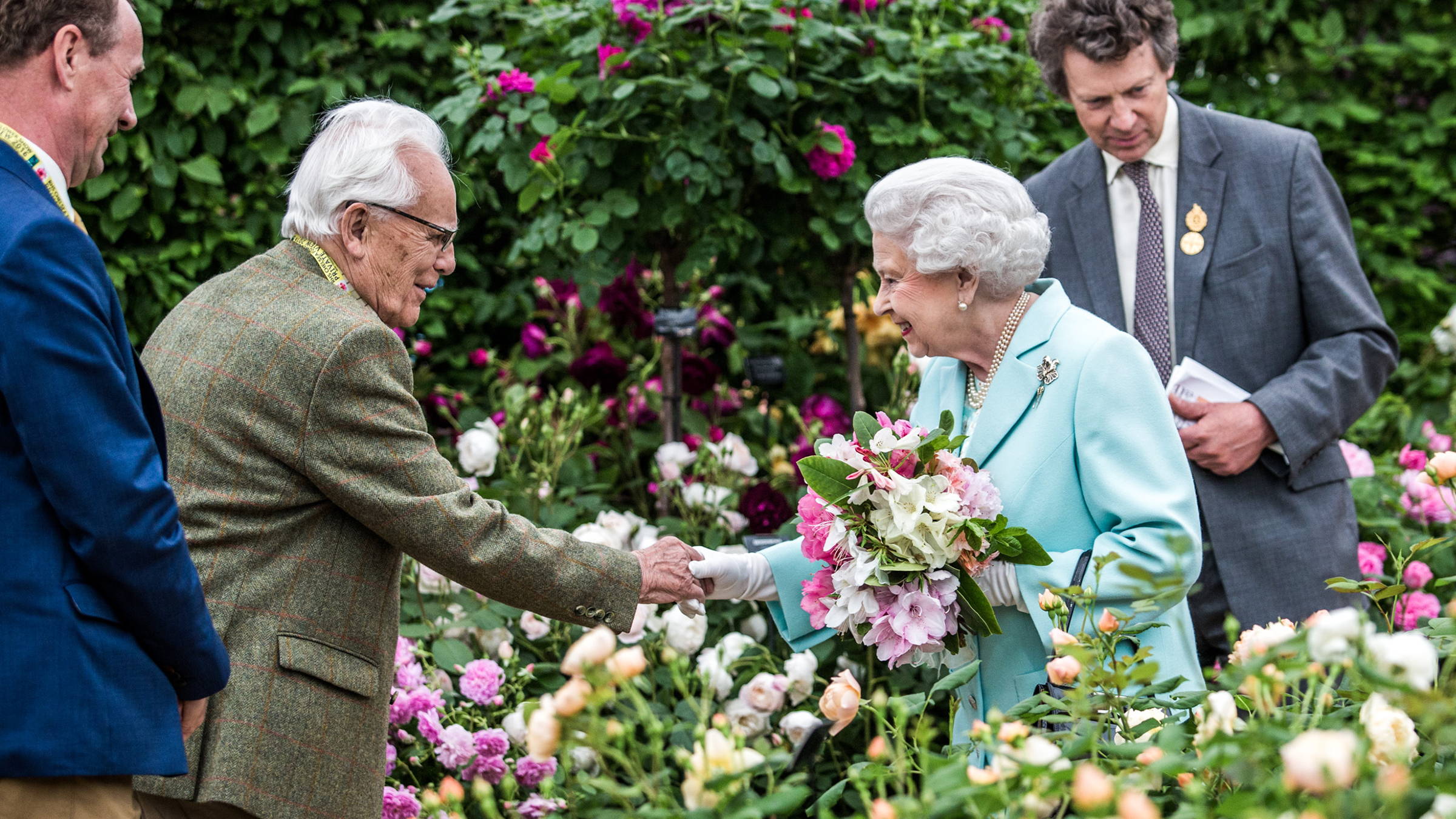 Leading the industry with award winning roses
David's unwavering pursuit of an ever more beautiful rose continued to reap rewards, with both his breeding achievements and his roses receiving accolade after accolade.
His rose breeding endeavours have resulted in a number of awards; from receiving an OBE in 2007 for services to horticulture, one of his proudest achievements, of which he famously said: "Every day, I marvel at my good fortune to have been able to make a life out of breeding roses. My greatest satisfaction is to see the pleasure my roses give to gardeners and rose lovers around the world," to being awarded the Victoria Medal of Honour from the RHS, an honorary degree from the University of East London and the Dean Hole medal from the Royal National Rose Society.


His roses too have won many awards around the world. 'Gertrude Jekyll' was twice voted the UK's favourite and 28 English Roses have also been honoured with the prestigious Award of Garden Merit from the RHS. The garden at Albrighton, both home to David Austin and the National Collection of his English Roses, received the Award of Garden Excellence from the WFRS in 2015.
Over 30 years of exhibiting at RHS Chelsea and RHS Hampton Court Palace, have together, resulted in 43 gold medals to date.
" Everyday, I marvel at my good fortune to have been able to make a life out of breeding roses. My greatest satisfaction is to see the pleasure my roses give to gardeners and rose lovers worldwide."
David Austin Snr.  
Behind the Roses
Apart from his passion for roses, David had a great love for literature and his sitting room was lined with bookcases filled with a great variety of books. The first book he wrote was The Heritage of the Rose, published in 1988. In 1993 he published the first edition of The English Roses, the definitive work on his own creation, which won great critical acclaim around the world. He especially loved poetry and published a collection of his own poems in 2014 entitled The Breathing Earth, which draws on his life experiences and his love of nature.
He may be seen as the Father of English Roses, but David was also a family orientated man. Even as his business expanded he stayed close to his Shropshire roots, living with his family on the farm. In 1990 he was joined by his son David Jnr. Together they developed David Austin Roses into a worldwide business with offices in Europe, Japan and the USA all while establishing a thriving cut roses business for wedding and events. More recently two of his grandsons joined the fold and David Austin Roses remains a family business today.