Delivery & Returns
The following delivery options and charges are applicable to all products sold by David Austin Roses.
DELIVERY TYPE
PRICE
ORDER BY
DELIVERED

Standard Delivery

Potted Roses delivered within 5 working days

Bare Root delivered within 5 working days
* During certain times of year, bare root roses will take longer than 5 working days to arrive. See 'Seasonal Availability & Delivery' below.
** Monday delivery is not available from May - October.
DELIVERY SURCHARGES FOR LARGE ITEMS & Gift cards
SOIL & COMPOST: £10.95 - This item will be delivered separately from the rest of your order.
GIFT CARDS: £2.95
Free Delivery offers don't apply to soil or gift cards.
seasonal availability & delivery
Bare Root Roses
ALL VARIETIES AVAILABLE
DELIVERY AND PLANTING: NOVEMBER - APRIL
Orders placed within the Delivery & Planting Period will be delivered within 5 working days from date of order. Orders placed outside the Delivery & Planting Period will be delivered from November when the season re-starts.
Bare root orders placed now will be delivered by end of April 2023.
Potted Roses
SELECTED VARIETIES AVAILABLE
DELIVERY AND PLANTING: ALL YEAR
How will my roses arrive?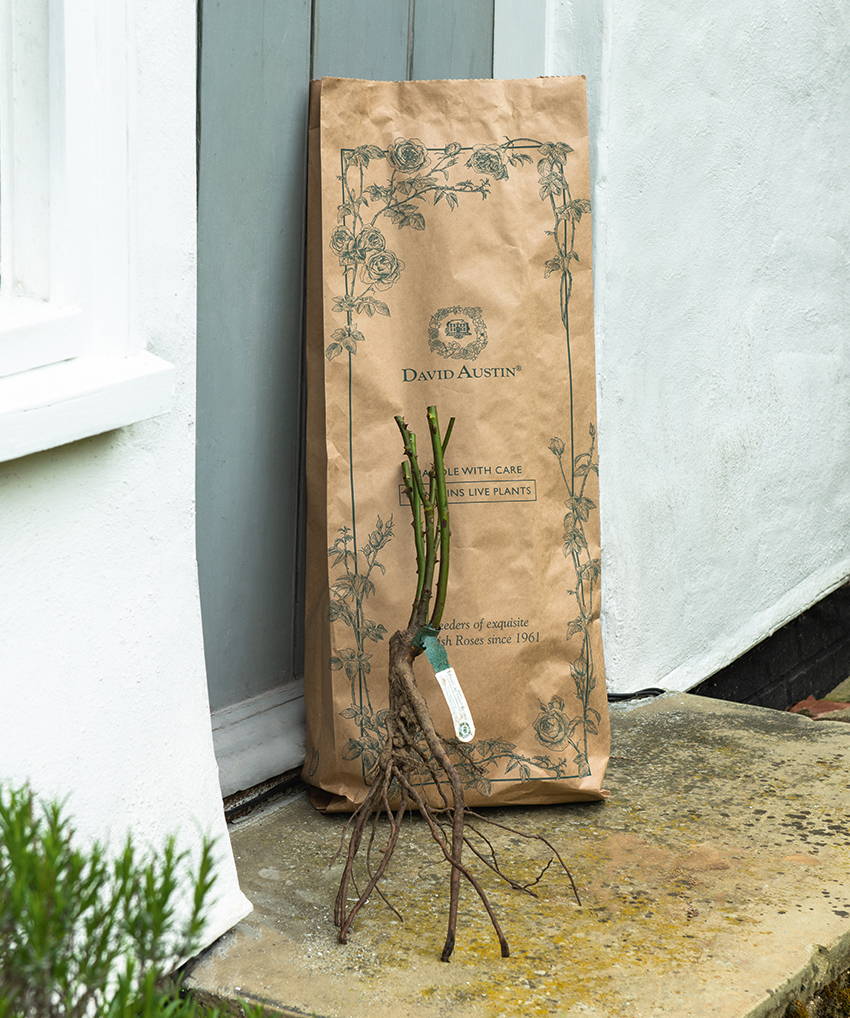 bare root roses
Bare root roses are dormant plants that are dug up from the field and shipped without soil. Due to their dormant state they have seasonal availability and are delivered between November and April, packaged in plastic-free packaging without foliage or soil.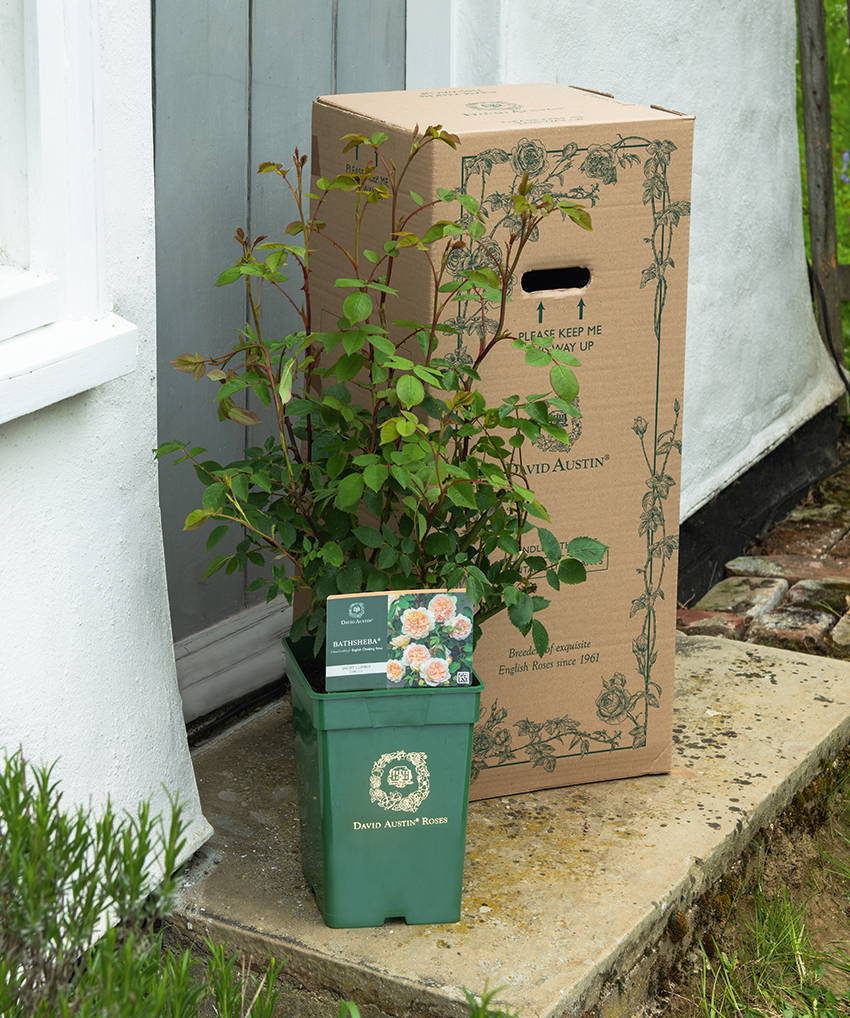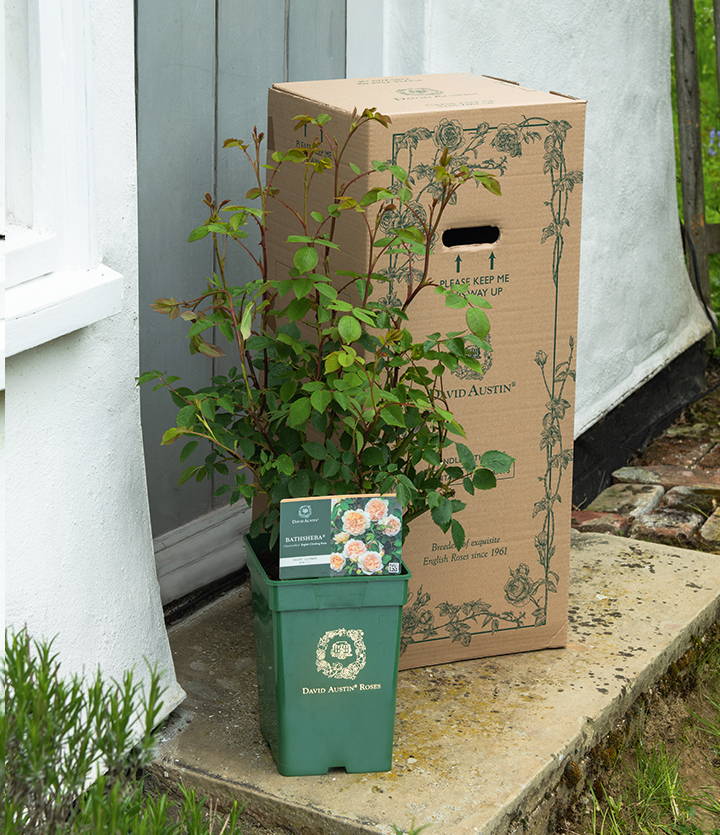 Potted Roses
Potted roses arrive planted in our signature green 6-litre pot, made in the UK from 98% recycled plastic. They are available all year round, and depending on the time of year your rose may or may not arrive in bloom.
How will my order be delivered?
An order from David Austin Roses will arrive safely and securely by courier. If you have provided a delivery instruction then your order will be left as requested. Bare root roses will arrive in our rose printed wax-lined bag and potted roses will arrive in our David Austin premium 6-litre pot, securely packaged in a sturdy, rose print box. Depending on the items ordered and the time of year your items may arrive separately.
Can I order a delivery to go to my place of work or another address?
Yes, we accept alternative addresses at checkout – just choose a billing address and a separate delivery address. Please note that it is your responsibility to make sure that the delivery address is accessible for the delivery vehicle and is able to accept the delivery.
What happens if I am out when the delivery arrives?
During the checkout process you are able to leave delivery instructions to make sure your order is left in a safe place.
Do I need to sign for my delivery?
No, our couriers are instructed to follow the delivery instructions provided by the customer at checkout and if no instructions are given, leave the order in a safe place/with a neighbour. If someone is available to receive the order the courier may ask for a signature.
Can I cancel or change my order after checkout?
Yes, you have the right to cancel an order within 14 days of the order being made. In some cases an order can be cancelled or changed before despatch. To do so, call us on 01902 376300 between 8.30am and 12pm on the day of purchase. If an order has already been despatched please see our returns, replacements and refunds policies for more details. Any additional charges to a changed order will be made at the point of the change.
My order is late what should I do?
We're very sorry your order has not arrived on time. Please note that deliveries are currently taking up to 2-4 working days to arrive. Please call our helpful team on 01902 376300 with your Order Number and we will check on the status and delivery estimate of your order. The exact delivery time of your order will depend on the delivery service chosen, the rose growing season and whether or not the order was made before 2pm Monday-Friday.
Part of my order hasn't arrived, where is it?
Depending on the items within your order, some products may arrive separately to ensure items arrive in a safe and timely manner. Please don't hesitate to call us on 01902 376300 if you feel an item should have arrived. The following are common reasons for different delivery dates for our products:
BARE ROOT ROSES: Bare root roses ordered between June and November are not delivered until November and December of that year.
STANDARD ROSES: Due to their size, Standard Roses will be delivered separately to other items.
NON-ROSE ITEMS: To prevent damage, soil, books and homeware items are shipped separately, to be delivered on a nominated day or by standard 3-5 day delivery, depending on your chosen service level.
Can I order for delivery internationally?
Orders to be shipped to Northern Ireland & Europe must be placed on our European website here. Delivery will be made within 10 - 15 working days for Bare Root Roses and 2 - 6 working days for Potted Roses. Please note that certain products have shipping restrictions. If the country you wish to ship to does not appear on this website please call 0044 1902 376373 for more information. For delivery to the US please visit: www.davidaustinroses.com/us
Returns
For information on returns and refunds please click here.
Contact Us
Should you have any questions regarding the delivery of our order our rose experts are here to help. Please call them on 01902 376300 or fill out the contact form here.