A chat with Sue Kent at Hampton
Sue knew she wanted roses in her show garden. After all, "What is a garden without roses?" Not only did they need to be climbers to complement her #knollingwithdaisies design, but she also needed them to be almost thornless. Sue explained she had not always realised thornless roses existed and so this revelation, along with discovering a new tool online (best described as long-handled secateurs), revolutionised her approach to gardening with roses. We were delighted to help her choose a practically thornless variety in Mary Delany (Ausorts), which also led her to incorporate another ten varieties into her own garden on the Welsh coast.
Due to an upper limb disability, Sue finds that the simplest of gardening tasks can present some challenges. Her choice of plants and the tools she uses are key, influencing the way in which she gardens – often resulting in her using her feet.
Sue's chosen rose, Mary Delany (pictured below), not only has very few thorns, but it also possesses a number of other attributes that align perfectly with the concept behind her design. Bearing large sprays, laden with light pink, its loose double blooms are of utmost delicacy, which enhances its overall look and feel. The use of this gentle and rather unusual rose harmonised beautifully with the cornucopia of daisies and herbaceous perennials, which worked together to create the English country garden look Sue had set out to achieve.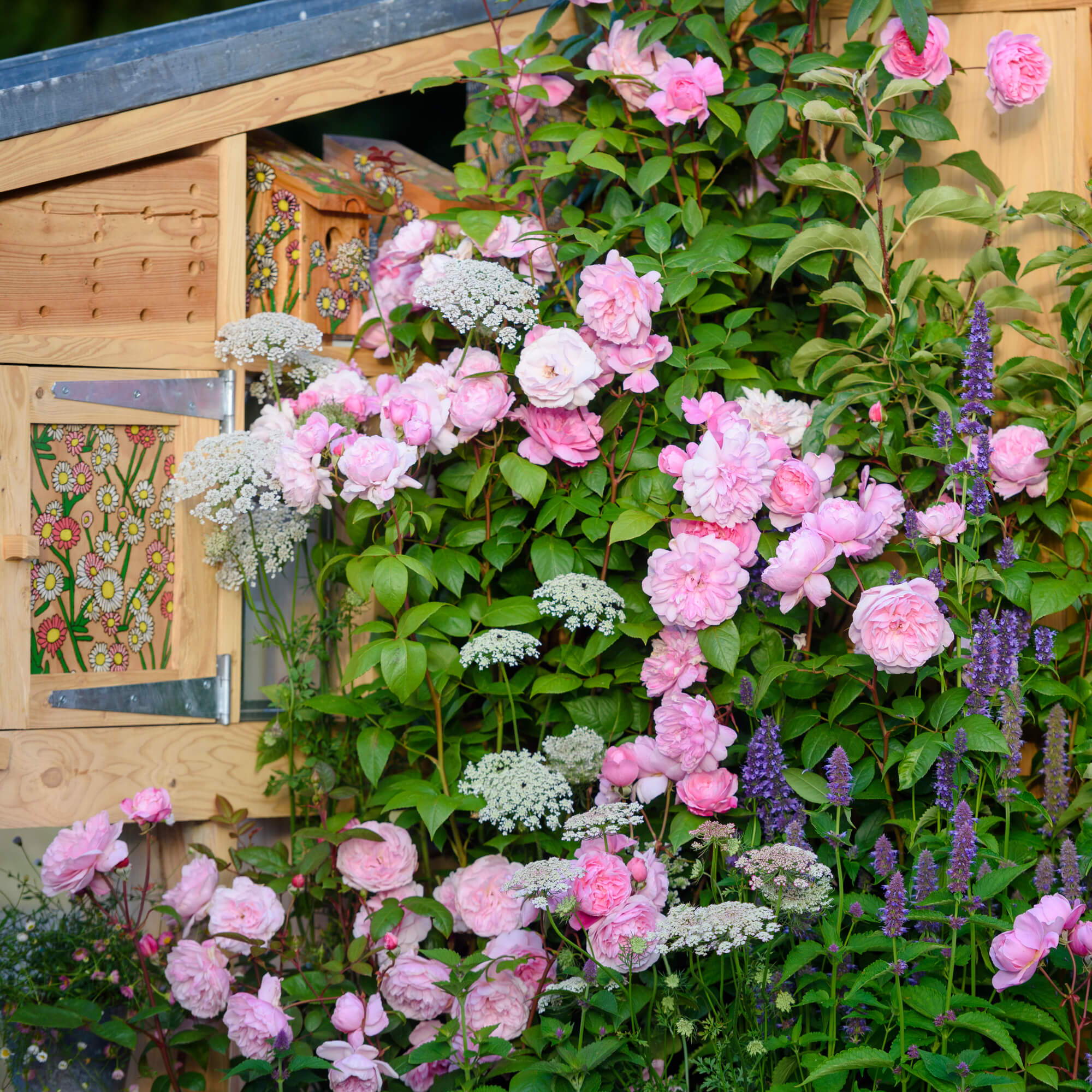 Sue's garden was one of the 'Get Started' gardens, a category the RHS introduced to champion inclusive and accessible garden ideas.  "The garden was inspired by the fact I work very hard. I get very tired and I like to lie down, so I started with two benches". In addition to her hard work, Sue's need to lie down is also due to her suffering from Meniere's disease, a disorder that affects the inner ear. Despite Sue designing her show garden specifically for people with a physical difference, she says "what works for me often makes life easier for everyone". For those new to gardening or with little time, her design is a great go-to for ideas and guidance and requires very few tools to maintain it – not much more than a pair of secateurs.
It was important to Sue that she created a wildlife friendly garden. When we asked her for tips on how people can encourage wildlife into their own gardens, she was brimming with ideas. "Have a look at all the pollinator friendly plants – I obviously couldn't use some of them because they can be quite harsh on the skin. Think about your colour scheme and overall design, then you can begin selecting the best varieties to attract insects and pollinators alike."
Sue suggests using herbs such as fennel and dill, which are very attractive to pollinators. We also adored her use of erigeron, with its small daisy-like flowers, popping up between the paving – a trick Sue employs in her own garden to cut down on weeding.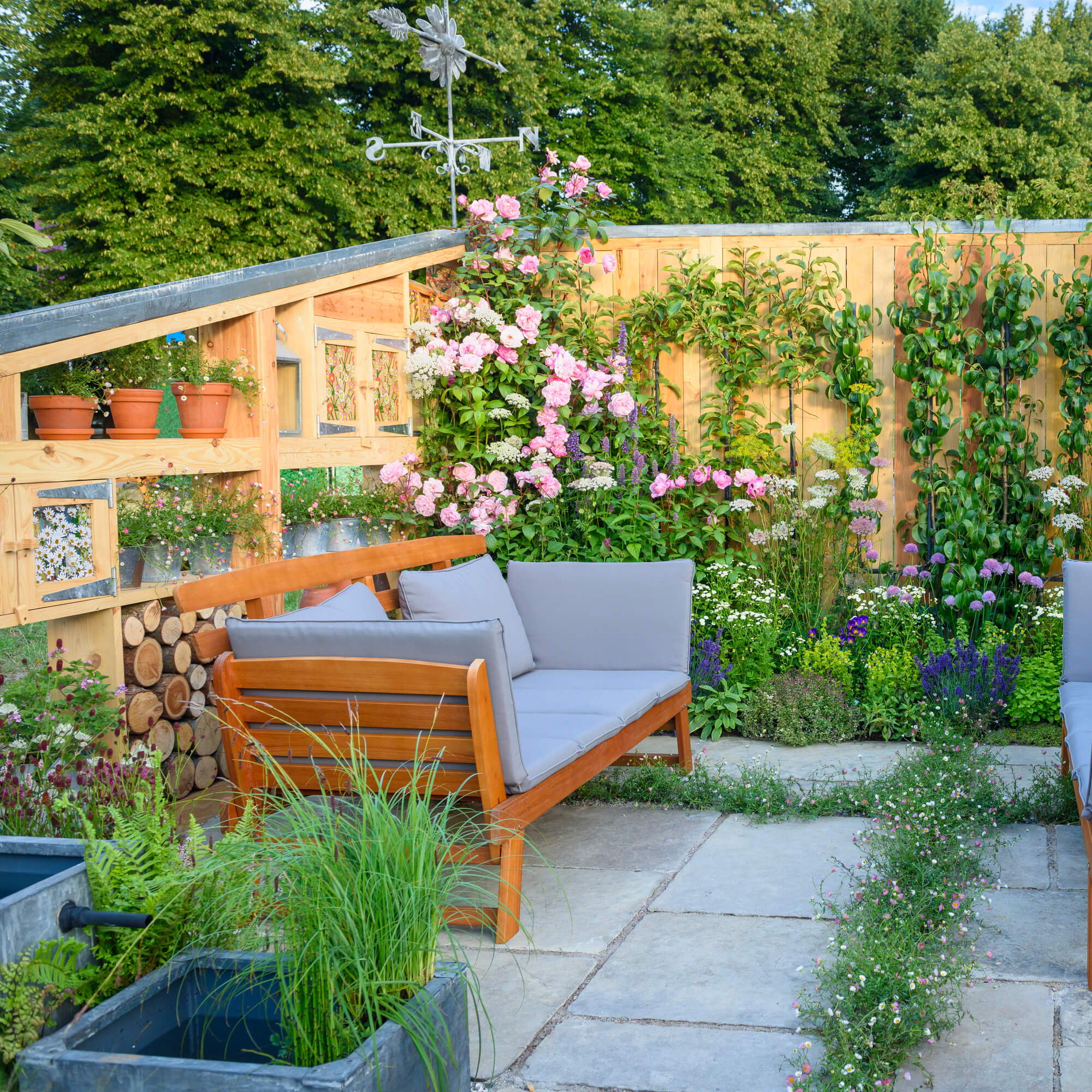 The paving was designed, along with the walls, borders and planting, to sit parallel or at 90 degree angles – a process called knolling, which inspired the name, #knollingwithdaisies.  Always striving to be environmentally responsible, most of the materials used in the garden were recycled or reclaimed. This did not mean compromising, and the garden was still very much design led, featuring bespoke handmade furniture and stylised bee homes. Other nods to nature included water storage, a compost bin and a distinct lack of lawn.
Creating this award-winning garden did not come without its challenges, but true to form, Sue overcame each obstacle that faced her with her own innovative ways. Wanting to see her garden in 3D to suss out the proportions, Sue and her husband mocked it up in LEGO whilst both at home with COVID over Christmas. To get a feel for its true size they then built it up on their patio using pot plants, old tubs and cardboard. "To make the fruit trees", she recalled chuckling, "we used old standard lights and a coat peg with twigs attached! Doing this was invaluable and it helped me realise I'd mis-measured my water feature meaning it would have been 15cm too big!".
Her hard work and determination paid off when Sue was presented with Silver Gilt at the show. After offering her our congratulations, we asked if she planned to return, perhaps next time aiming for a Gold. She revealed she has already been in discussions with the RHS and that "my next idea is a big one". We cannot wait to see what Sue has in store for her next show garden and we look forward to being inspired and impressed once again, by her innovative approach to gardening.
roses with very few thorns
ROSES BEST FOR ATTRACTING POLLINATORS