The History of the English Rose from David Austin Roses
The 'English Rose' – the term given to a rose bred by David Austin – was born from a simple desire to create a more beautiful rose.
Mr Austin set out on his life-long quest, aspiring to combine the very best characteristics of the 'modern' Hybrid Tea Roses, in particular their repeat-flowering reliability and vast array of vibrant colours, with the much-loved aspects of Old Roses, notably their rich fragrance, shrubby habit and classic charm. He was certain that if he could marry the very best traits of these two rose types then he could create an exceptional repeat-flowering garden rose of unrivalled charm, colour, and fragrance. A process of experimentation, or 'amateur hybridisation' as Mr Austin himself referred to it, began. Originally carried out by Mr Austin in his small greenhouse, the intricate skill of crossbreeding is today undertaken by a team of skilled hybridisation experts, a unique combination of science and art. It remains a delicate and meticulous process where each year 40,000 roses are cross-pollinated by hand using an artist's paintbrush.
Early attempts at hybridisation came with varying degrees of success – one step forward, two steps back scenarios played out as progress was made and challenges presented. Helped by a touch of luck, eventually a small group of plants developed that were deemed sufficiently viable for introduction to the public.
In 1961 the first Austin rose came into being; 'Constance Spry' (Ausfirst) – the foundation rose in the evolution of English Roses. Not without her challenges, eventual subsequent crosses with her offered more varieties – all pink at this point, but all true of colour and exceptionally pure.
By 1969 the small debut collection of English Roses was ready. Wife of Bath (Auswife), notable for being the first truly repeat-flowering Austin rose, was joined by Canterbury (Auscanterbury), Dame Prudence, The Friar, The Knight, The Prioress and The Yeoman (Ausyeo) who have all now been retired. Of course, this initial collection was just the start of the journey. Learning, experimentation, research and development were ongoing, yet as knowledge and skills expanded, gaps appeared and more questions raised. Complex crossing and backcrossing was undertaken when the quality was not quite there or seedlings were not as strong as Mr Austin would have liked, despite careful selection of vigorous parent roses. Achieving variety of colour was elusive at first; red roses proved a challenge, with Chianti (Auswine) arriving in 1967. It also took time for a yellow rose to emerge, the first being Graham Thomas (Ausmas) in 1983, a breakthrough in achieving a brightly coloured bloom. Health, Mr Austin observed, would become a trait that could only be built over time through the process of backcrossing and crossing healthier roses, each time capitalising on the progress made so far. The Mayflower (Austilly, 2001) and Princess Anne (Auskitchen, 2010) are, to this day, seen as fine examples in the quest to breed ever healthier roses.
It is quite astonishing to comprehend the scale of achievement that has been reached, when it takes ten years of patience and dedication, not to mention around 120,000 development roses to create just one rose variety. Very little has changed over the years, apart from raising our exacting standards ever further in our pursuit of the finest English Roses. Every year around 200,000 unique seeds will be planted individually by hand and nurtured in our greenhouses, under heat and light until they are ready to be assessed. This is still one of the most exciting, yet anxious, times of the year, dictating which of the most promising seedlings will be chosen to continue their journey and develop into full size rose bushes, under the ever-watchful eye of our experts. Ongoing assessment over seven years will result in the selection of just ten of the original 200,000 seedlings, from which just one will be chosen for release.
With a growing collection of varieties and increased interest in English Roses, particularly thanks to Graham Thomas (Ausmas) and Heritage (Ausblush) causing a stir at Chelsea Flower Show in 1983, Mr Austin found himself simultaneously developing the farming and production of roses at scale. 
Despite his farming background, producing a crop of roses was still new territory, and a significant step up from the handful of plants grown in the garden at the beginning. From the preparation of freshly ploughed land, to growing and budding thousands of root stocks, the nurture of maiden plants into saleable roses came with its hurdles. Initial years saw a lot of wastage, and learning took time with two years required to produce a crop of roses to harvest. Today, we confidently harvest over half a million bare root roses each autumn with a good yield, improving practices as we go and learning the preferences of each variety.
The introduction of potted roses in the late 80s transformed the business, as it allowed customers to buy and plant English Roses all year round. Tentatively starting life in a basic potting shed, where soil was shovelled through a hole in the wall from a truck on the other side, around 700 plants were hand-potted each day. Today, our potting machines fill around 14,000 pots every day to meet demand.
Many elements of rose farming continue today as they have done for decades, yet some have doubtlessly changed with the arrival of technology, improvements in machinery, and changes generally in the horticultural sector. Technology can bring with it tremendous benefits, removing some of the thornier elements of the job. Our longest serving colleagues recall the finger-numbing days where root washing had to be done in snow and freezing temperatures, while today they watch the automated root washing machines make light work of the task. Flailers now remove leaves quickly and painlessly, where in the early days, they would have been removed by hand. Similarly, tying-machines now quickly and efficiently bundle roses, which would have originally been tied by hand; tricky when wearing thick gloves. These automations, some of which are carried out by bespoke machines almost 40 years old, were a necessity to keep up with demand as the business grew. Some elements still require the human touch though. For example, the grading of each plant continues to be carried out by eye, using the Grading Bible, and every rose is hand-finished with a little light pruning and careful inspection before leaving our nursery.
Changes in the perception and acceptability of pesticide use, has impacted the way we grow our plants, as has the introduction of Integrated Pest Management (IPM), enabling us to reduce the need for pesticides by keeping certain damaging pests at bay. Prior to its introduction, we would spray our crop for those damaging pests, and in doing so would destroy the beneficial insects too. IPM is a system we have utilised successfully for the last three years, both in the garden and with our potted roses, reducing the need for sprays and helping to reduce our impact on the environment.
As awareness and understanding of the need to care for and protect our planet has grown, so has our emphasis on the environmental and sustainability considerations of our actions and of our plants. Over the years, this has led us to explore more sustainable options, from the introduction of our bio-mass boiler in 2014 which heats our greenhouses, to our evolving iconic green and gold pots, initially introduced in 2006, today they are made from 98% recycled material and are, themselves, fully recyclable. We are continuously looking at new ways to tread more gently on the planet, considering new concepts and thoroughly testing each one to make sure any advancements can be introduced without negatively impacting the quality of our product.
Popularity of the English Rose continues to grow, as does the collection, which today stands at around 200 varieties. But of course, the introduction of new varieties inevitably involves the retirement of others. As we breed better, healthier roses and our knowledge and expertise increases, those varieties which no longer meet our exacting and improving standards are retired. Old favourites will in time be superseded by better-performing, healthier roses, whose lineage has benefited from our learning and refined methods.
Despite all that has been achieved, the quest continues to breed the perfect rose and bring the delight of English Roses from our small Shropshire village to gardens all over the world.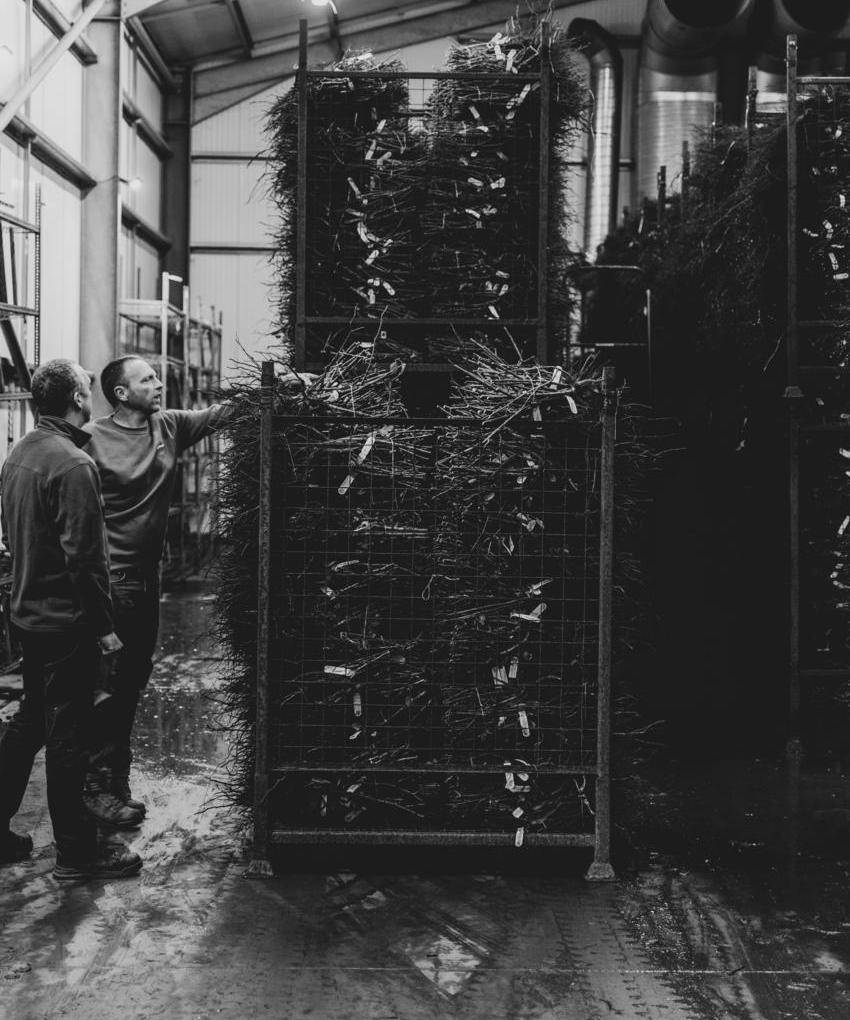 The towers of bare root roses freshly harvested from the fields and prepared ready for the start of the bare root season. Once harvested, the roses are placed in one of seven cold stores which between them can hold up to 1.5 million roses at capacity. This particular cold store was upgraded in 2021 to be able to hold 400,000 roses and has given us the ability to store at a cooler temperature, down to 1˚ centigrade, keeping our roses in the best condition for as long as possible. Our humidification system keeps our roses at 97% humidity, making sure they never dry out.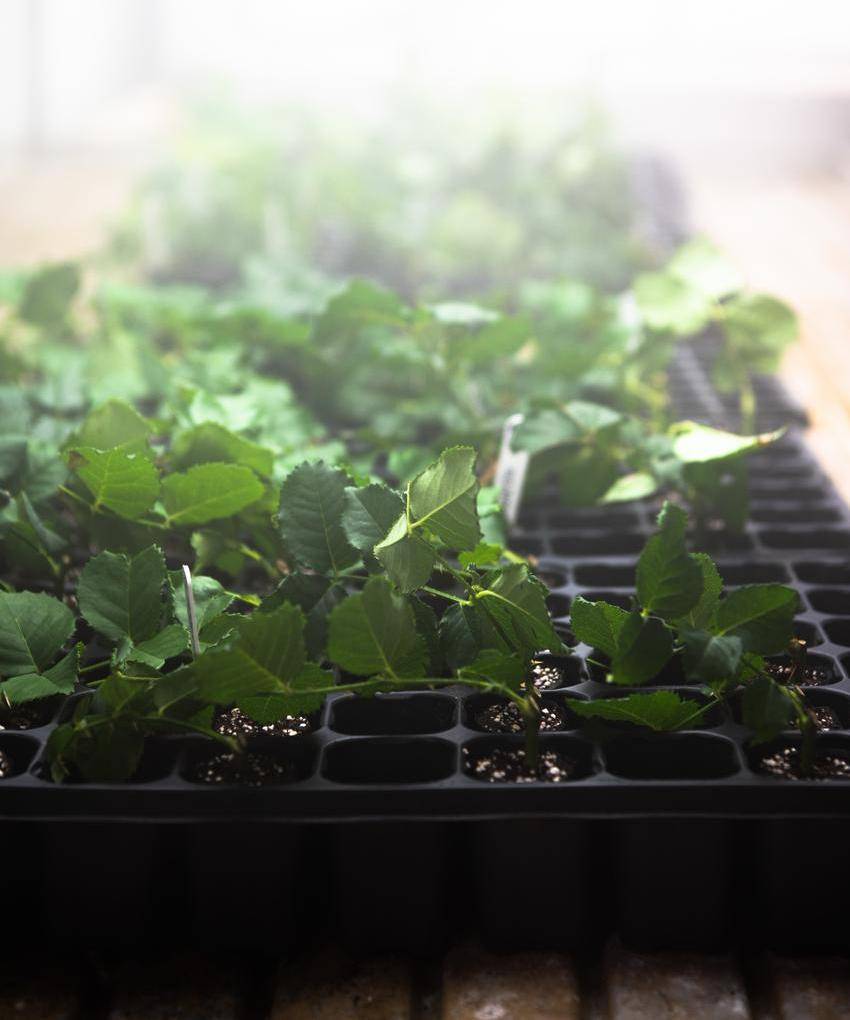 Within the walls of our breeding houses we propagate both our garden and cut rose varieties. Each breeding programme is unique since the requirements of garden roses differ to the requirements of roses used in the floristry industry. Once bloomed, our rose breeder Carl begins his selection process, where selected garden rose varieties will be moved into the trial fields outdoors.
VINTAGE ENGLISH ROSES
60 years of endeavour to create the perfect rose has led us to developing and releasing over 200 new varieties, each beautiful and distinctive in their own right. Many have stood the test of time and although launched many years - sometimes decades - ago, are still some of our best sellers and most well-loved varieties, by both ourselves and our customers.
VIEW THE FULL TIMELINE