Climbing & Rambling Roses in Pots

"Can I plant a climbing or rambling rose in a pot?" is one of the most frequently asked question to our rose experts.

We understand that your garden space is at a premium and finding a spot for a new rose can be tricky. Planting a short climbing or rambling rose in a pot is a great way to use space on a patio or create colour and scent up a bare brick wall. This planting style can be more high maintenance than others, but the results are impressive.
---
To get the very best from your rose in this planting style it is important to consider the following: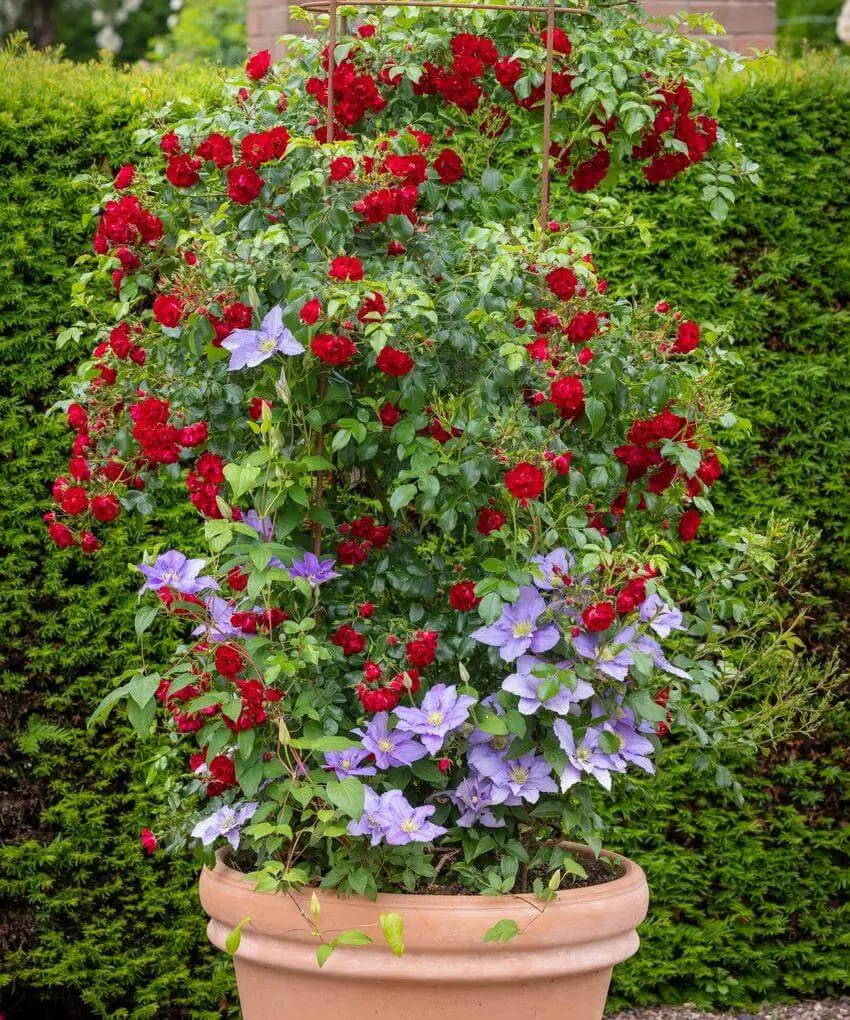 POT SIZE
To ensure your rose thrives in its pot, the roots must have the space to establish. We recommend a pot that it is at least 2ft (60cm) wide and deep with approximately 100 litres of compost. Pictured above is the short rambler, Rambling Rosie (Horjasper) planted with Clematis 'Cezanne'. If you'd like to achieve this look then bear in mind you'll need an even larger pot and some extra feed too for the best possible result!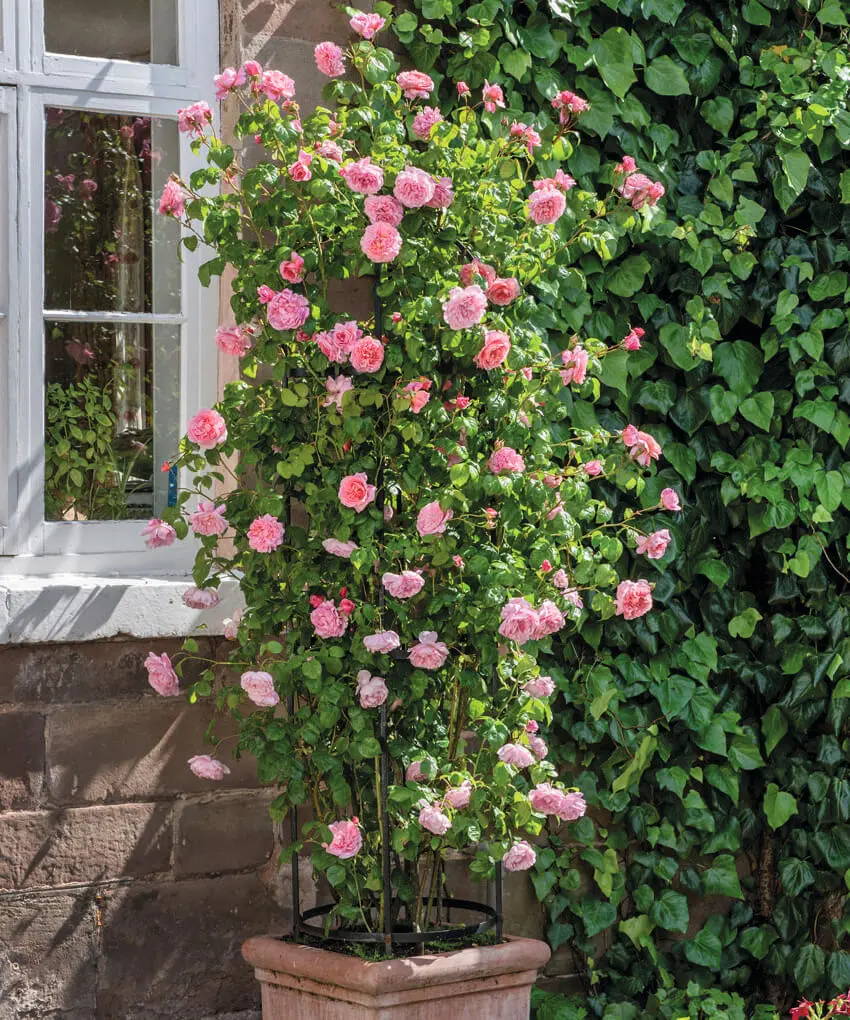 ROSE TYPE & SIZE
When it comes to your rose choice, size is everything. Choose a small English climbing rose such as Strawberry Hill (Ausrimini) pictured above. English climbers are particularly good, as they produce plentiful stems from the base, which encourages flowering lower down in the large pot.
Gardener's tip
When planting your rose our experts recommend using a 50:50 mix of multi-purpose compost and John Innes No. 3 potting compost
our recommended climbers for pots
Gardener's tip
During the summer months it is vital to water your pot every day, unless the compost is particularly wet after rainfall. Check the compost for moisture a few inches under the surface; if it feels dry then water
Our Top Tips for Planting Climbers and Ramblers in Pots:
Our experts recommend sticking with smaller English climbing roses and short repeat flowering ramblers - no more than 12ft. See our recommended varieties, perfect for pots, throughout this page

Growing in a pot may restrict the overall height of the climbing or rambling rose, however if our recommended roses are planted in the right conditions then you should have a pleasing result. 

When planting the rose you can use a wall as a supporting structure by using wires or a trellis to train the rose as it grows. Alternatively, you can use a sturdy obelisk, at least 6 - 7ft. With larger pots, position your obelisk in to the pot, plant on the outside and twine the main stems to encourage more flowering side shoots. You can otherwise plant your rose on the inside of the obelisk, but be careful to train the stems on the outside of the structure to make it easier for pruning and training. For more advice visit our 'How To Train and Tie-in Climbing and Rambling Roses'

article.
If you have any more questions to ask our rose experts, please visit our Contact Us page.
our recommended ramblers for pots